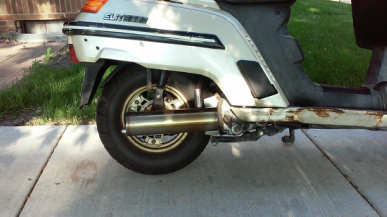 FREDDIE #1

Well!!!
first! after 30 years of driving these Elites, i need a little change of looks for this, been thinking of making a muffler out of stainless for a few years now, i put my first proto type on last week, sounded like a rusty P>O>S OEM muffler with large holes in it!! lol.. got my second one ready to be welded up this monday (5/25/15) this one is probably way over kill!! we'll see!!

second! i don't like buying from china!!

third! the steel oem rusts!!

i know it looks pretty ghetto, i need some input!! the final muffler will include some heat shields. i think it should angle more upward in the back of the muffler. imo.. also i didn't buff out the welded heat stains.

Talk to me!!
Freddie
---


FREDDIE #2

I added more baffles!! and some muffler packing to this one!!

everything 304SST!! BOOM! :)
WEIGHT YOU ASK?
MY CHINA MOD MUFFLER=8.4LBS
MY sst MUFFLER =6.9LBS.(FINAL WILL WEIGHT LESS)
I AM USING WAY TO THICK OF MATERIAL FOR MOST OF THESE PARTS! JUST WHAT WE HAD LAYING AROUND!!)

5/26/2015--update!! 100 miles on the second one..

7/11/2015--update!! 2200 miles on it!! still holding up very well. my daily ride is starting to make some engine noise!! so i threw this muffler on my back-up bike.(an '86 with 4500 miles) the OEM muffler was like new, this muffler is just as quiet!! as far as the 5mph loss? i can get this bike to 72mph! same as with the OEM muffler, still waiting for time to make my 3rd muffler..


pros: very quite!!
cons: $$$, long welding time, lost 5mph!!

Freddie #3 next weekend!! stay tuned!!
---
9/10/2015 update!! my '86 has 6800 miles on it today, total of 4500 miles on this muffler!! still quite! and no rattles!! most of the heat stain is from my old daily ride, i don't think much of the heat stain is from this bike, i do 65 mph both ways to work, with no problem.

i hope to build a new muffler this weekend, if the new muffler works out, this one has to go!! i have to much stuff, anyone interested? write me!!

Freddie
---