Sept. special!! front and rear shocks for the '85-'88 Honda CH250's
Just came in!! more rear shocks!!
This set comes with 2 ea. front and rear shocks, the rears are made by YSS and the fronts are from China, I have not had any problems with the fronts, or have a heard back from anyone who has bought them from me.

price $195.00 plus shipping.
---
COMING SOON!!! COMPLETE BUMPER STICKER SET
JUST ORDERED VINYL STICKER FOR THE FRONT, SIDE, AND REAR BUMPERS! THE COLORS iiORDERED ARE:

RED METALIC
PEARL WHILE
SUMMER BLONDE
BLACK MATALIC
GRAY MATALIC
---
Angled Valve stems 1 Pair
If you have never replaced this yet, your in trouble!! Take this test, just bend the stem over, chances are it will break in 2!!
These fit 11.3mm to 11.5mm hole..


$5.50 PAIR!!
---
NGK spark plug DPR6EA-9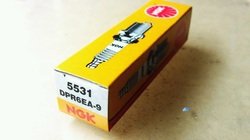 Brand new spark plug from NGK p/n DPR6EA-9

Made in Japan

$3.00

---
'85-'86 Gauge cluster pcs.
had to make some of these corner pieces for the '85-'86 Ch250's speedo cluster, it mounts on the right side of the clock batter cover, you need this to hold the clock battery cover! you will need to glue this piece in.

Made in Minnesota

$3.50
---
Replica Rubber Plug '85-'88 CH250
This plug goes right below the seat, next to the carb cover It is exactly like the OEM!

Made In Minnesota!!

$5.00
---
CH250 steering Bearings
Complete set of steering bearings(upper and lower) for '85-'88 CH250.

$3.50
---
Left and Right Passenger foot rest Pads
Replica left and right side passenger foot rest pads. You can't tell!! I swear!!

Looking for something different? I can make them different colors!! give me 2 week turn around.

Made in Minnesota!

$17.99
---
'85-'86 Trip Odometer reset button
replica trip reset button for the Ch250.

Made in Minnesota!!
$7.50
---
'85-'88 CH250 Carb Cover
Replica Carb cover here! will fit the '85-'88 CH250's, I only have them in black right now!
I also include a Honda brand screw for this cover!! I guess your missing this screw as well as the cover!!

Made in Minnesota!!

$28.00
---
Honda CH250 Radiator cover - unpainted
A replica cover for the CH250! these come unpainted, I wont be offering painted parts til spring/summer of 2013!

Made in Minnesota!!

$19.00

---
Ch250 Left Footrest Cover
A replica left footrest cover for the '85-'88 Honda Ch250, I won't have any panted parts till sring 2013, after I get more body panel mold made up.

Made In Minnesota!

$15.00


---
'85-'88 CH250 Battery Cover
Replica Battery Cover for the CH250-'85-'88 only in black for now--check back soon for the bitterred!!
(comes with the 2 rubber cushion for the back.) And now includes a Honda brand screw!!!
Honda p/n 80154-KM1-000ZE
Made in Minnesota!! ;)

$30.00
---
CH250 Rear Bumper '85-'88 (pebble finish)
Replica!! I have here another hard to get part, it has the rough or pebble surface, it looks and feels like a OEM!!!

Made in Minnesota!!!

$25.00
---
'85-'88 CH250 rear shocks (1 pair)
Made by YSS. there are 5-way adjustable!! great for 2-up riding! I have over 35k miles on my set!!




$155/pair

---
CH250 Front shocks '85-'88
Improve your ride with these new Shocks

Made in China. :(

$60.00/pair
---
CH250 handle bar clips
custom made includes 1set/2 pcs.

made in minnesota!!

$9.00/pair
---
CH250 Clock Battery Cover '85-'86
Replica Clock Battery cover includes the back-up cushion

made in Minnesota!!

$12.00
---
CH250 Muffler '85-'88
I have done some mods to the Helix mufflers, so they will fix our CH250s! they still have the 2 piece down pipe, but I have added the rear bracket so it will be a direct fit to our swing arms, and I have also added 4 buttons to the front of the muffler so you can swap the heat shields! I'm also including a OEM gasket(the one that goes into the head..

Price: $118

p.s. Honda still sells the OEM mufflers for the Helix!!!! (about $300 from Babbits) I can also do mods to them as well!! e-mail me!! I can do it for $35 plus shipping(give me a 2 week turn around, please)...

---